F Sionil Jose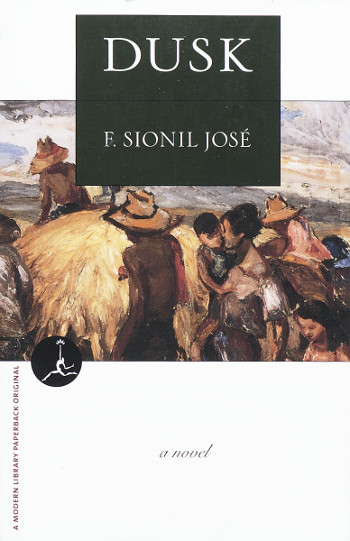 REVIEW OF DUSK, the resilience of a Pinoy called Istak of Poon
@year 2000
(and my usual yadda-yadda-doo, the spontaneous kind'a writing you're getting used to by now....when I talk with my friends they always ask me back, "Come again?" I am such a mess in writing and speaking... this is my first article for the year 2000)
As I stare at the books in my possession that were written by F. Sionil Jose I begin to realize I've read this Pangasinense-Ilocano Pinoy author more than any other Pinoy writer that I can think of.
Reading Dusk and Don Vicente is more like a retreat back to my high school and early college years when I started reading full-length novels, a progression from reading the Tagalog novel serials which I read religiously in Liwayway magazine during my childhood. It goes without saying I finished reading Noli/Fili (required highschool readings) prior to Poon(Dusk).
Dusk and Don Vicente make up three novels: Poon, My Brother My Executioner, and Tree; these are three of the five novels comprising the Rosales saga, covering nearly a century time frame. In reading them as a young man, I feel blessed because as a reader, I started reading Filipino authors first before foreign authors.
If there is anything I got out of these books, it was nationalism. Especially Dusk because I could relate to it. I'm one of the few who's been influenced by Poon. It is saddening to hear reviewers commenting that this book is more read in other countries than in the Philippines. If that case is true, I'm not surprised why our country always stands on the brink of failure
.
If you've never read Poon/Dusk, then you've missed the glorious feeling of being a free Filipino. Poon is sat in a culture similar to the Noli/Fili with a few differences:
1. While Noli/Fili is at the time when the Philippines was still a province of Spain, Poon is within the time frame of the First Philippine Revolution.
2. Noli/Fili is seen through the eyes of an Ilustrado, Poon is seen through the eyes of Istak, a poverty-stricken indio.
3.Poon stands against the background of Ilocos and Pangasinan, Noli/Fili setting is Manila and suburbs (with occasional references to provinces).
4. Noli/Fili makes one hopeful of the Philippines' bright future amidst present helplessness, Poon makes one survive with strength and perseverance amidst present helplessness.
If every literate Filipino would just sit down and read Noli/Fili/Poon just one more time, this time with feelings, s/he would feel blessed for living in a country free today. If every Filipino would carry the spirit of Istak, we'd have the best nation in the world.
My intent is to introduce a Pinoy promdi called Istak of Poon.
The novel Poon is like a shaken test tube, the author keeps shaking it until sediment is synthesized at its base. And that sediment is Istak.
Istak's resilience is so intense and so consistent it brings tears to my eyes. My friends read about this character. I envy his toughness - his manner of dealing with life's insurmountable hurdles will make him live forever in the mind of the world.
The first few pages of Dusk made me tremble, I got as frightened as the first time I read Noli. In the end, however, I felt inspired.
Think about this: Merely a century ago, people like Istak were limited and excluded in their own country. They were subjects to foreigners. They could not enter school, they could not travel unless they are on the run, if they voiced opinions, they get exiled or killed.
Speaking of opinions...
(here are my yadda doo lines again and they have nothing to do with what I've just talked about)
Because I have this tendency to enter the souls of the characters I'm reading about (every reader does) I sometimes get so overwhelmed I immediately get my pen and express my emotions either through rhythmical lines i.e. Mangyan sulayen (which I hardly call poetic lines because they are simple sing-song lines for emotional release} or through long, long monologues like this one so get ready!
After reading an emotionally charged novel like Dusk or Noli or Fili or Umbrella Country, I usually rest my mind by surfing the web and reading the latest news about the Philippines. And this is what I experience: From intense Filipino idealism, I am confronted by stories about the CARNIVAL of politics in the homeland plus countless, gosh, millions of commentators which intensify the color of the Carnival. The saddest thing of all, the really sad thing is, no one talks about Ibarra or Istak anymore -except perhaps - Ambeth Ocampo because he's a historian.
All I'm saying is, it's horrible when you read Dusk and then read about the present Philippine state of affairs.
In Poon/Dusk, here is Istak who keeps going - his father Baac kills an abusive friar, then the whole family escapes the land they till and move away from Poon, along the way, the father is bitten by a snake and dies, the mother gets drowned, a cousin Orang is raped by uniformed men, the mountains ferocious tribesmen try to burn them - still Istak moves on.
He gets sick and while being delirious, his brother An-no takes responsibility for their father's crime and when Istak wakes up from a stupor, brother An-no's corpse was already given a decent funeral - still, Istak moves on.
He meets Mabini, then he meets a "closet' revolutionary Don Jacinto, then he meets a 'disciple' of Diego Silang -still, Istak moves on.
The last quarter of the novel is where F. Sionil Jose picks up the pieces of the broken vase which Rizal has shattered. This is also a very painful chapter in the history of the Philippines, narrated with such power and intensity that I skipped reading some paragraphs. I couldn't bear them.
The betrayal by the Macabebes, the Tirad Pass led by Del Pilar, the intense regionalism of earlier Pinoys, and lines like these:
Istak: I don't want to make you angry Apo," Istak said clearly. "All that I can look after is my own farm, serve those who seek me when they are sick. I have my children to look after so they will not know what hunger is."
Mabini: Don't ever be a patriot, Eustaquio. Those who think they are or will be deluding themselves. Patriotism is selfless. And it is not the generals who are the bravest - they usually have the means to stay away from the battle and thereby lengthen their lives. The bravest are usually those whom we do not know or hear about, those anonymous men who dig the trenches, who produce the food. They are the corpus - you understand that word - the body and also the soul of a nation. Eustaquio, my words are just words, but all through history - and you have studied it, it has always been the many faceless men, those foot soldiers, who have suffered most, who have died. It is they who make the nation."
It is important for every Filipino to take one more look into this novel by Sionil Jose - if all Filipinos would carry in them the spirit of Istak, from leaders down to laborers and farmers, this country would probably be the best in the world.
As I've mentioned in my previous yadda-yadda-doo's the Filipino problem of a step forward two steps back can be corrected by turning our nation of reading. By reading books like Noli/Fili/Dusk/even poetry books, we'd see ourselves and be inspired by ourselves and may think more of this country and people first before anything else.
I don't understand why no one in our dailies talks about our great literary characters written by our own neighbors and brothers. We love reviewing books from the west and I bet we know more about Mickey and Donald Duck than Istak or Don Tiburcio. Do you really expect our country to achieve great progress by feeding them every day about the Carnival Show of Malacanang and Congress and Manila? What really makes me laugh are opinion writers who use so many quotations from western writers it seems they read nothing but The Book of Great Quotations. Also, our so called artists, wow man, I am almost convinced of your rhetoric until I hear you say, (directly copied from Hollywood, of course): "I create dreams babe, give me the money." Do you really imagine yourselves working for Hollywood films? You're reading too much Hollywood stuff. And I don't give a shit about your commercialism!
As far as those religious extremists pro-censorship people in the Philippines, I won't spend a single space for them in my 11 MB free webspace, I won't use a single neuron in my brain thinking about them. I'd rather see my ever-favorite Alan Paule doing Gino Antonio (using a condom) and enjoying the whole action. But I won't call that art - I'd call it libido-filling-money -making-film. And I have a couple of them in my room. And I use them to spice up my sex life and I love sex because I'm born with it and I thank God for giving me such pleasure which I can also utilize for procreation. But then I'm gay. And I believe God created me to have variety in his creation. There!
See, I wasn't struck by lightning. Because ....okay, I'd stop here - I won't turn this into a liberal stuff shit.
I don't judge any form of art. It's an expression and as such, it can't be quantified or qualified.
I don't give a shit about who's fucking who and who undresses who or what in the Philippine cinema...whether it's a chick or a chicken, I still want to know the meaning, relevance, and value of every piece of art we churn out for our people.
Of course, they have a choice.
But if you come from Barangay Kabukbukan where cinema is the public library, public museum, public cafeteria, and buy-all grocery store, do you have many choices?
When classifying films, Manilenos tend to think the Philippines is made up of Manila and 'others'. You think your decisions and philosophy created for Manilenos are applicable to 'others'. The promdi is always the 'others' and guess what...... we're seventy percent of your audience. And we, the 'others' don't have the choices you have there in Manila!
Since you embrace the job of creating 'entertainment' for the people of the Republic and since you have the monopoly of entertaining the people, you must also embrace the responsibility associated with that job. Sure you'd make money by showing bomba films, but how do you promote the level of the Pinoy with that? Oh yes, they can always avoid bomba films because they have choices.............like what?
Do you think they have a choice between reading Dostoyevski and the movie you peddle to them? Do you think a man would go home fulfilled and inspired and informed after a pumping scene between whoever you choose to pump for him? Here in the US, x-rated films are located in small stores where for a quarter, one can peep at them. I hardly find an x-sex movie being shown in public here. And people have millions of choices here.
As I said, you can show Ara Mina plucking her pubic hair one by one for two hours I don't really care as long as besides her film, I can find the history of my country and the struggle of my people and I have a job to look forward to afterward, and I have a wonderful book to read and I have the opera to watch, and I have a computer to web surf, and I have food on the table. That's the only time I can agree with movie classification. That's the time we can categorize things for ourselves. First and foremost - we must have a lot of choices.
Do our artists really think of harnessing the culture of our people by telling them "I create dreams and you pay me and I don't care about your personal development as long as I make money for my studio and myself?" Yeah, that's wonderful capitalism but capitalism is also based on a fair game.
It's the shitty kababuyan and kababawan films that made our people inept and accept shitty jobs and situations all over the world and I'm not talking bomba films alone here.
Even the classification created by the MTRCB is a direct copy from the US. As far as I am concerned, there are only three types of movies in the Philippines, the three K's: Kabihasnan, Kababawan, and Kababuyan. Since the movies in the 80's bastardized the Tagalog language and mingled it with English in the so-called Taglish so we Filipinos never managed to increase our English vocabulary beyond "kilig to the bones", I intentionally refused to watch Filipino films. The sex movies aren't sexual enough, the serious movies aren't serious enough, the funny movies aren't funny enough. All we have are kababawans and a lot of kababuyans which we, by the way, call ART.
I also don't like those old fantastical and impossible movies made in the past where 20,000 people can get killed by "Isang bala ka lang" bullet from the hero. I hate those films!
They promoted fantasy which turned our people into what they are today including me. We want instant success. We want instant money. We want an instant leader/title. We want instant work. We want everything instant and easy without knowing there is more realistic hard work to achieve them.
Fool people once, shame on you; fool people twice shame on them.
An intelligent Pinoy will eventually cry foul!
Foul! because you don't know the consequences of your actions.
Do you think being a leader and an artist is all glamour and name?
For every mistake you make the consequence and damage it creates can't be taken for granted.
Let's say you legalized cockfighting in Kabukbukan barangay. One way or another a working man, a father, would be tempted to participate in this game-gamble. He'd spend half of his salary in betting. The wife will get mad and they'd fight. The children will be traumatized. Food will get scarce on the table because half of the money was spent in sabong. One of the kids gets sick. No money to pay hospital/MD. The child dies.
Even if all the proceeds of the sabong is given to charity, you still destroyed a family and killed a child.
You may say it was not your fault. The father had a choice. Yeah and kiss my lovely ass! You just don't fool me like that.
Every Filipino, whether a leader or a common man, is responsible for that destroyed family, for that dead child.
If the leader made the mistake, his subordinates must have corrected him.
The bigger role we'd like to take in our country, the bigger the responsibility we must be willing to handle. If I were to write for the biggest magazine (TIME, for example) in the world - I'd probably be on guard all the time. I'd probably read all the books and data pertaining to any topic I am covering. I'd probably call my editor every day to see if what I'm doing is alright. I'd probably be running all over the place to facilitate my work. I'd probably be double-checking every word I write because...millions of people depend on me for information and knowledge.
Responsibility is a forgotten word in our society nowadays. We Filipinos tend to talk more (including myself) in the first person. It's sometimes good to talk about our neighbors and our country and anyone outside ourselves for a while.
I don't personally envision the rise of the Filipino quality of life to a level comparable to developed countries at present. I don't think we'd reach our peak during my lifetime.
But you know, we are a people who 'almost made it'. Yeah, I like that word almost. We are the people of Almost.
We could have almost sealed our victory against Spain had America not come to us.
We could have almost progressed ahead of Asia had the Japanese not invade us.
We could have almost built our economy into a giant dynamo had we focused more on progress and people rather than our personal vendettas and personal gains.
The negation of our progress and development happened because of the never-ending tug-of-war among ourselves. We promise things we know we could not possibly deliver because we absolutely do not know what we are talking about. This is possible only in a climate of dream and fantasy. The magic realism called our lives. The lines of the congressman who say "I promise to build you a bridge even when there is no water to cross". That's our politics. Because we are used to dreaming and fantasizing. And in that fantasy-world, we fight each other for the possession of better fancy and illusion.
There is only one way to rid ourselves of the curse of fantasy. I have mentioned this before and mention it again, I encourage all Filipinos to return to roots, to search for roots, to dig deep down into our history and selves, and re-establish and re-define who we are.
The only way to discover us is by three ways: Read. Read. Read Filipino authors.
Do not limit yourselves to the news and opinions of the dailies. Review works that have beginnings and endings, Pinoy life in all its fullness and fluidity; I'm talking of Constantino/Rizal/Jose/Gonzales/Joaquin/Alfon/Arceo/Arguilla/ Dalisay/Hidalgo/etcetera. I'm talking about Sikat/Balagtas/Nolledo/Lacaba/Landicho every Filipino author you can think of.
For nearly a century, our nationalist authors have been portraying to us the true face of the Filipino but we've refused to paint him in our minds - always hoping that face is blond and speaks English and Spanish and is loved by America.
Now see him in Poon/Dusk and you'd see the face of Istak. And he speaks Tagalog and 100 dialects. That's his true face. That's his true voice.
Thank you, F Sionil Jose, to me, you are the Grand Apo of Ilocandia.
Alex Maskara
2021-02-07 02:11:50
bookreviews