A Visit to Quiapo with El Fili2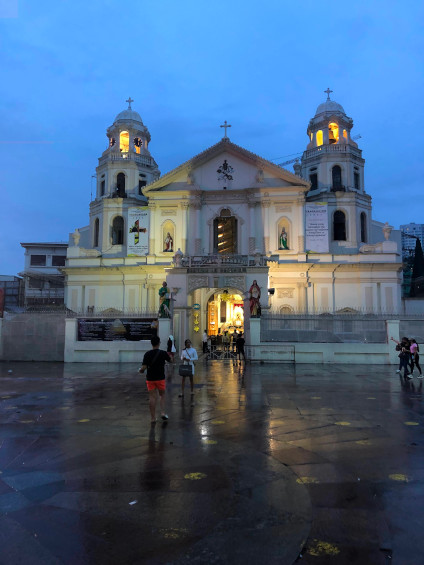 To roam around Quiapo is like living the multi-century old tradition and people and rituals and history of the city of Manila. Rizal pointed in his novel El Fili the fiesta atmosphere of the church.
Thousands of people wade through its narrow roads as they shop, sell, pray, and roam because they had nothing better to do. There is a constant barrage of noises with all types of vehicles utilizing the narrow streets. Cars, buses, trikes, habal-habal, trucks, all other configurations, including the old kales and vans and bicycles, and even foot pedal trikes. I easily jump on their horns of the highest decibels; you would think all the people in the city are deaf to hear their loudness. On top of that, I get rattled by the competing loudspeakers of vendors outdoing each other in peddling their wares. Somebody, with an above-the-knee amputation is standing in the middle of the road panhandling. Someone appears like a walking store; all his merchandise is hanging like an apron on his body as he moves around. A kid tugs at my pants, asking me for a few spare changes. I was feeling famished and in my search for cheap food, I climbed the few steps leading to the eateries under Carriedo station of LRT1. My right knee whined while I was doing so. There was an alley leading to Feati university but that was not where I was going. I went straight to the transient eateries to order my lunch. I picked up fried galunggong and laing and two servings of rice. I made them to-go orders, and they were poured and stuffed into plastic bags and the bags were placed in a paper bag. They had chairs and tables available to sit to eat, but I did not want to use their recycled plates and utensils for fear of contamination. I heard of old stories when hepatitis A spread rapidly among customers of these unregulated eateries, due to unclean cutlery, but that was more than 40 years ago. I paid less than 4 dollars for the meal I ordered and waded my way back to my hotel, nearly stepping on a sprawled dog on the sidewalk. There were other stray dogs roaming and sniffing at bags of garbage piled up in corners waiting to be picked up by the garbage collectors. I reached my hotel and ate my meal with disposable plates and utensils I bought from 711. I observed that drinking water is a high commodity in the city, no one trusts the regular tap water here. So, people spend a considerable amount of money on bottled drinks. Seven eleven is just around the corner from my hotel and I frequented the place for my regular supply. But a 2-dollar bottled water was more than enough for me through the day so I can't complain. But that can be a little expensive for the regular folks.
I felt claustrophobic in my cheap hotel. Having rested for an hour, I took off again back to the way of Quiapo but towards a different route — Santa Cruz. I crossed a wide street and landed on the road leading to the Pasig River. I knew from memory that across Pasig is Intramuros which I am dying to visit as a matter of course every time I am in the city. Pasig is the historical river of Manila where its ancient nilad bushes granted the name of Maynilad which is the root word of Manila. Rizal mentioned in El Fili that this river was a major thoroughfare in his time. He poked fun on the Tabo, the boat that carried his protagonist, and which had decks that separated the social classes of the Philippines society in the late 1800s. There was Dona Victorina, the character I love the most because she was the perennial self-hater, the Indio-hating Indio, the woman who powdered her face like the Kabuki actor so she can hide her native features and look like a cultured Spanish, with all its pretensions. I see her all the time among the modern Filipinos.
I slowed my pace upon reaching the Pasig River.
2023-02-05 09:27:34
popong